Home
NEW: I gave the inter-disciplinary FacSem seminar at Sciences Po on Arpil 19, 2014. See my presentation here.
---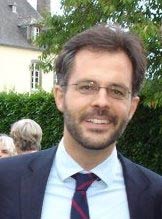 Current academic affiliations:
Sciences Po, Paris: Professor of Economics and Scientific Director, Master in Finance & Strategy
Center for Economic Policy Research (CEPR) and Institute for the Study of Labor (IZA) Research Fellow
Education:
Harvard University, Ph.D. in Economics (2007)
Ecole des Mines de Paris, Ing. Corps des Mines (2003)
Ecole Polytechnique, B.Sc. (2000, X 1997)
Editorial boards:
Associate Editor, Review of Economic Studies, Annals of Economics and Statistics, and Economic Theory
Research funding:
European Research Council (ERC) Starting Grant 2013-2017: "EcoMatch. Matching Markets: Theoretical and Empirical Investigations". Amount: € 1,119,000.
Current research themes:
Matching, Consumer theory, Hedonic models, Risk sharing, Risk measures, Quantile regression
---
Contacts:
Mail address: Département d'Economie, 27, rue Saint-Guillaume, 75007 Paris France
Office address: J405, 28 Rue des Saints-Peres, 75007 Paris France
E-Mail: alfred.galichon@sciences-po.fr
Tel: +33 1 45 49 85 82